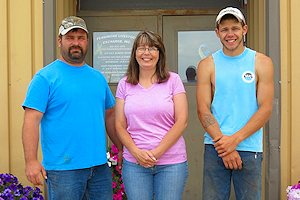 Hello, my name is Jake Klas and I am the owner of Fennimore Livestock Exchange along with my girlfriend LuAnna Staskal. In 1982 I moved to Fennimore, WI along with my parents Dick and Ida Klas. Prior to moving to Fennimore, my dad managed the Midwest Livestock salebarn at Granton, WI for four years before being transferred to Fennimore. My dad managed the Fennimore location from 1982-1993 when he was given the opportunity to purchase the location. My parents owned and operated Fennimore Livestock Exchange with my help as assistant manager until their fatal car accident in August of 2008. I continued to manage the barn until February of 2009 when LuAnna and I purchased the business from my parent's estate. We continue to operate the salebarn, not as a job but as a way of life, with the same attention to detail that my parents did.
Even at my young age, I have seen many changes in agriculture, some good – some… well? What can I say? One thing I do know is that I do have a love for farming as you do. I also understand how hard it can be and how rewarding it can be. In high school, with dad's help, I put together a herd of beef cows. In 1999 I sold my cows for the down payment on my farm where I milked cows until February of 2009. Dad told me that you can't milk and run a salebarn at the same time, of course he was right again! I miss those cows but needed to devote more time to our salebarn customers.
Since being owners, LuAnna and I have made a few changes to make Fennimore Livestock Exchange our own. We have combined our Tuesday night dairy sale, which tended to get kind of late, with our 2nd and 4th Saturday feeder cattle sale. This combination sale begins with dairy at 12:30 and seems to be more buyer friendly. We have also partially computerized the office. I have continued selling Carhart's Seed Corn and it continues to be a good yielder and great value. Last year I became a dealer for Pequea Machine Corp. selling bale transports and hay feeders. LuAnna and I have also added some new sales to our business including horse and tack sales along with consignment sales. I guess we have become a full-service salebarn.
What LuAnna and I would like to know is how we can serve you. Whether its slaughter cattle, calves, sheep, goats, hogs, dairy, feeder cattle, hay or bedding, we will do our best to provide a competitive market for your livestock and feed.