Fennimore Livestock Exchange, Inc. is the marketplace of choice for farmers in Southwest Wisconsin. The company has a long history of bringing buyers and sellers together and a reputation for high quality livestock and top dollar market prices.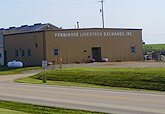 A variety of sales are held every week from slaughter replacement sales, feeder cattle sales, dairy sales, to hay sales. See the complete schedule of sale dates.
Whether it's slaughter cattle, calves, sheep, goats, hogs, dairy, feeder cattle, hay or bedding, we will do our best to provide a competitive market for your livestock and feed.
Fennimore Livestock Exchange is located north of Fennimore WI on US Hwy 61.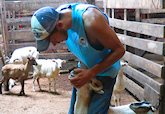 Please take the time to view all of our pages and feel free to contact us about any or all of our wide variety of livestock sales or services. Call us at 608-822-3255